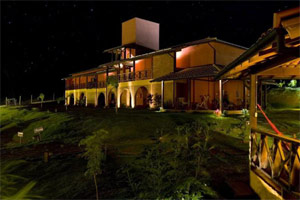 The name Carumbé comes from a large bowl that was used by the miners during the 19th century to wash the gravel that was mixed with grains of gold, so its separation could be easier. Pousada Carumbé, with its candlelight restaurant, is located in the Santana do Riacho highway, 300 meters from the asphalt road, close to the Véu da Noiva waterfall. It's before a beautiful view of Grande Pedreira, a touristic hot spot which the visitors of Serra do Cipó cannot miss.
The charm, the comfort and the hospitality of Pousada Carumbé make the difference. A swimming pool with a waterfall, a heated swimming pool, rooms with air conditioning and thematic decorations, a candlelight tavern, everything planned to your comfort and relaxing.
The breakfast is diverse and well served, and it goes on until 11 a.m. There's no need to wake up early to have breakfast. Come enjoy a waterfall bath by the side of your room!