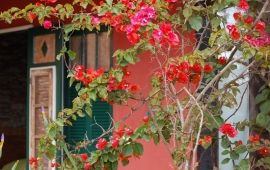 The Cottages
The Carumbé Cottages are situated 200 meters from the lodging. There're eight charming cottages with a mini bar, colonial cabinet, table and chairs, hot shower, 32" TV with a DVD player, intercom, fridge, hair dryer, a balcony with a hammock and a beautiful view of the mountains.
In two of the cottages there's a kitchen with a stove and cookware.
Carumbé Cottage is situated in the most quiet part of the village. You can still have everything that the lodging offers.